The finished gallery wall that I designed for our upstairs hallway did not match the vision I thought I wanted. I thought I wanted a curated wall of vintage landscapes and abstract art, but quickly realized that it wasn't my jam. It's beautiful, but it's not for us. The hallway leads to the reading nook — a cozy little spot for my girls to curl up with a book — and I wanted to keep the art fun and happy.
There are three things to think about when designing your gallery wall: frames, color palette, and art/photos. Let's dive into each.
Frames
I've already done a gallery wall with the same frames and mats so I wanted to go in a different direction for this one. I wanted that curated, yet eclectic look. You could go on a hunt for frames and mats that look good together (store bought or vintage), but you'll also have to consider the sizing of your art or photos and find frames to fit. This could take some time.I worked with the concierge service at Simply Framed to do this for me. I was on a time crunch and this saved me a lot of time. One thing about having someone else help you design is that they suggest things that I would normally gloss right over. For example, I would not pick a rose gold frame, but it works!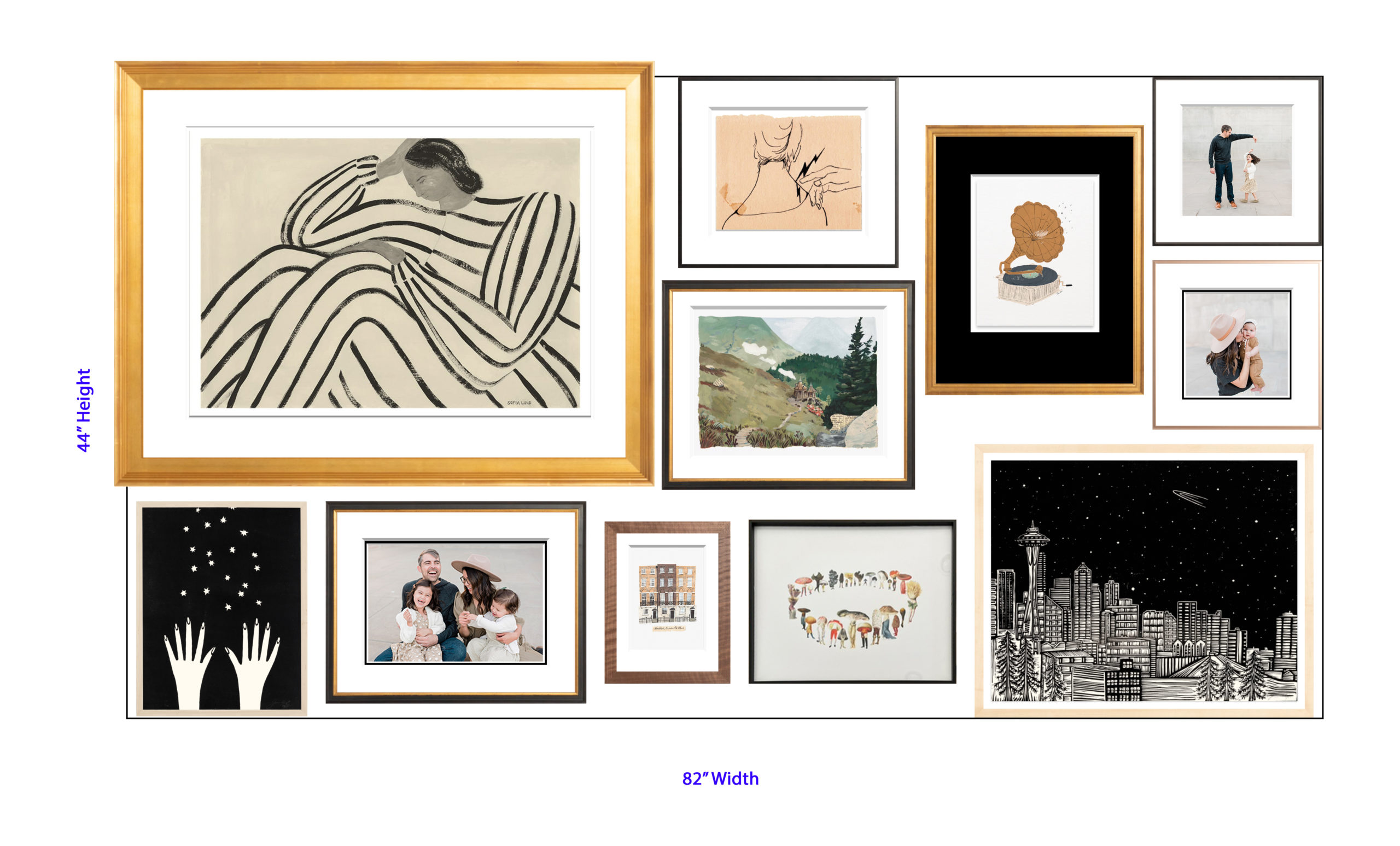 Their selection of frames all work well together, so no matter what frame profiles I selected, I knew it would achieve the look I wanted. Several of my prints came in non-standard sizes and the mats were different sizes, so custom framing was the way to go here. This is the mock-up that my designer and I came up with so I knew exactly what it would look like. I am a very visual person and this was so helpful for me.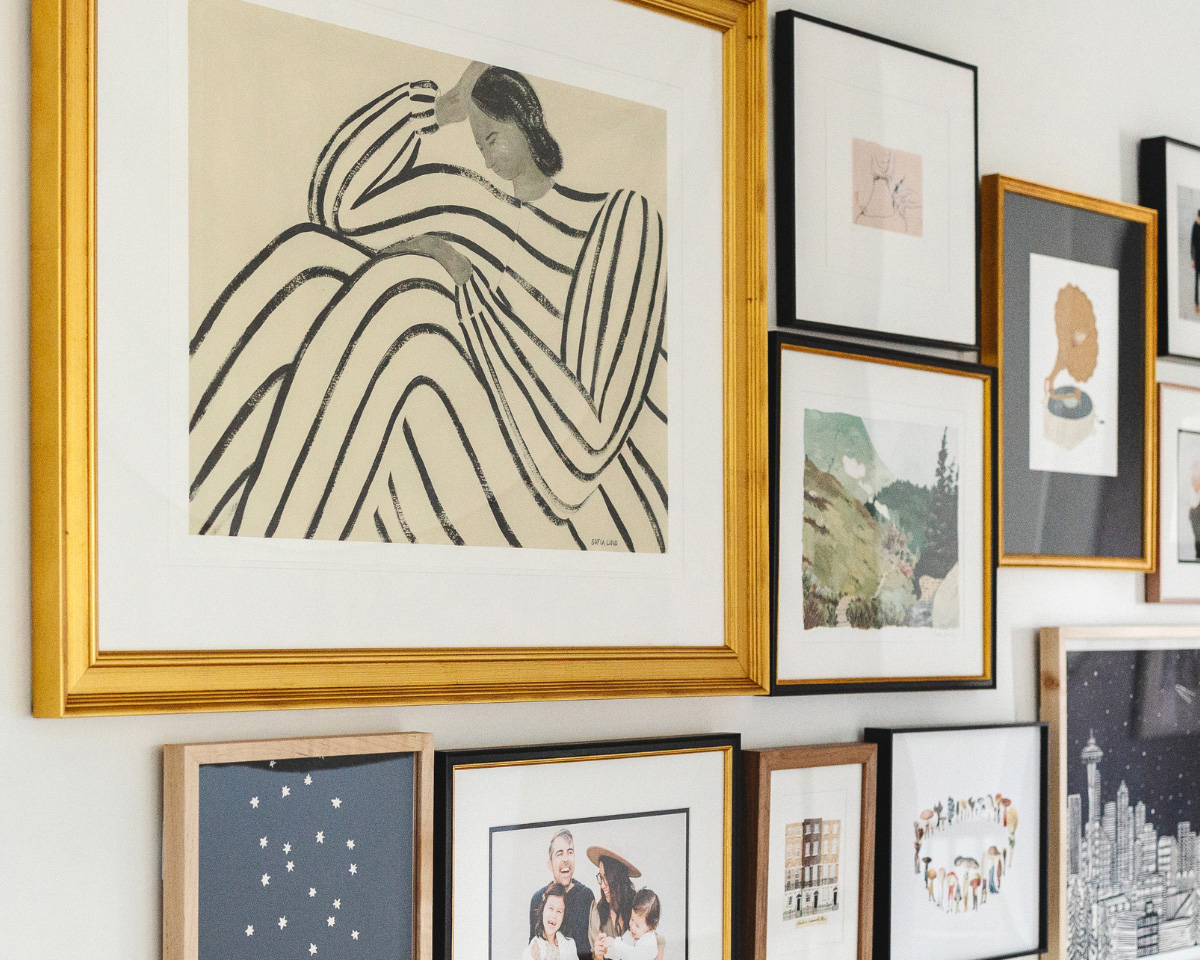 When you use the concierge service, they can help you incorporate art you already have (you just send it in to be framed!) and provide the links and dimensions so they can add it to the mock up. The Dancing Troop print was already framed so I shared the sizing to make sure it all fit.
Color Palette
When curating a gallery wall, you'll want to keep to a color palette. That's how it looks put together and intentional. For ours, the main colors are neutral (black, tan, white, green) with a little blue to tie-in the bookshelves. There are some lighter colors like peach that I tried to repeat, if possible, and then one pop of color in the mushroom print. The colors are similar in saturation, meaning not too bright and not too muted, and the frames in gold and wood help bring warmth. Don't forget to add black for contrast.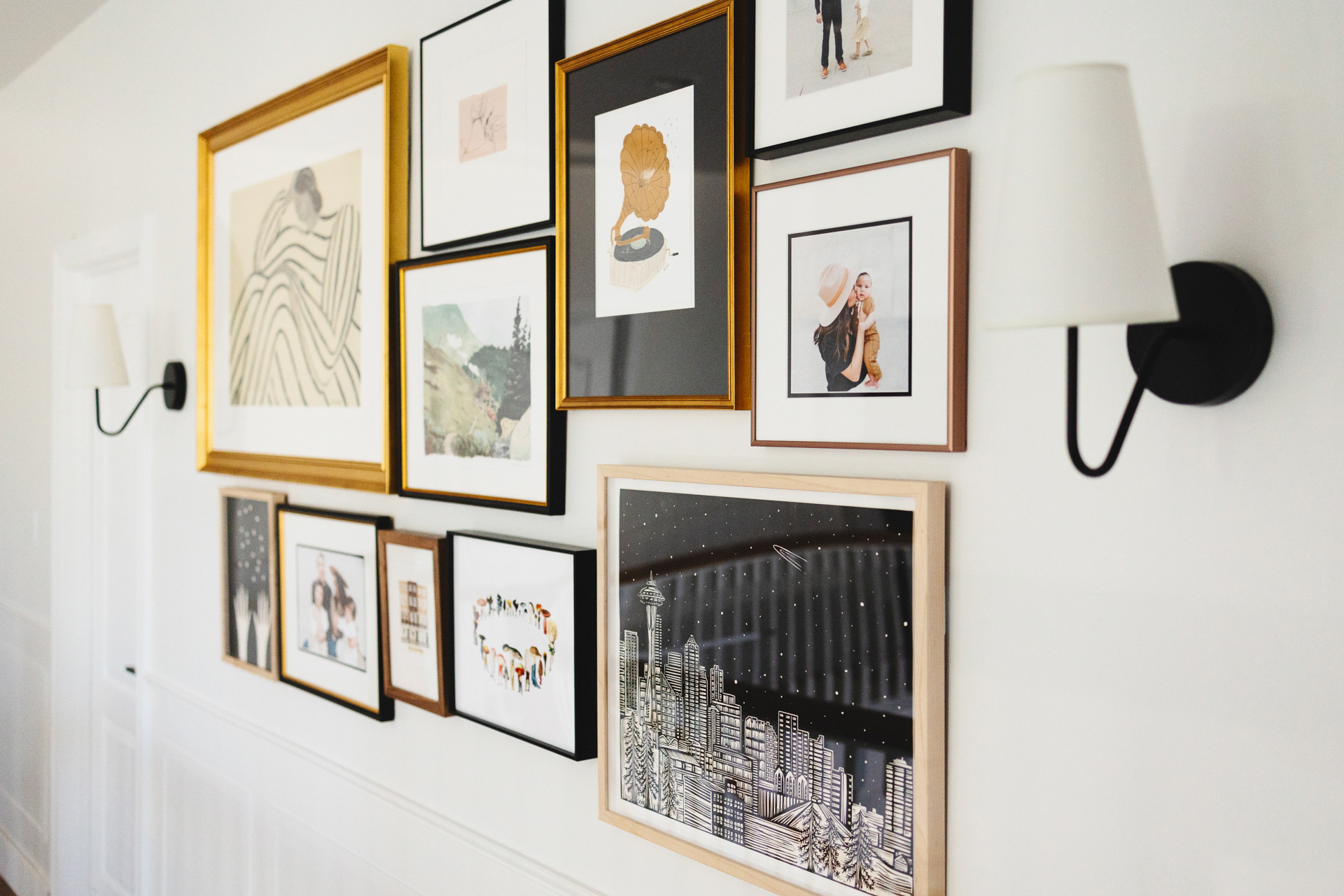 Selecting Art and Photos
Some people do gallery walls with all art pieces, some people do them with all family photos. I wanted a combo of both, and I like being able to see our family's smiling faces displayed this way! As I was sourcing my art, I was looking for art that represented some of our favorite books and that held meaning for us, but someone looking at it would only know if they've read that book or understand the reference, if that makes sense.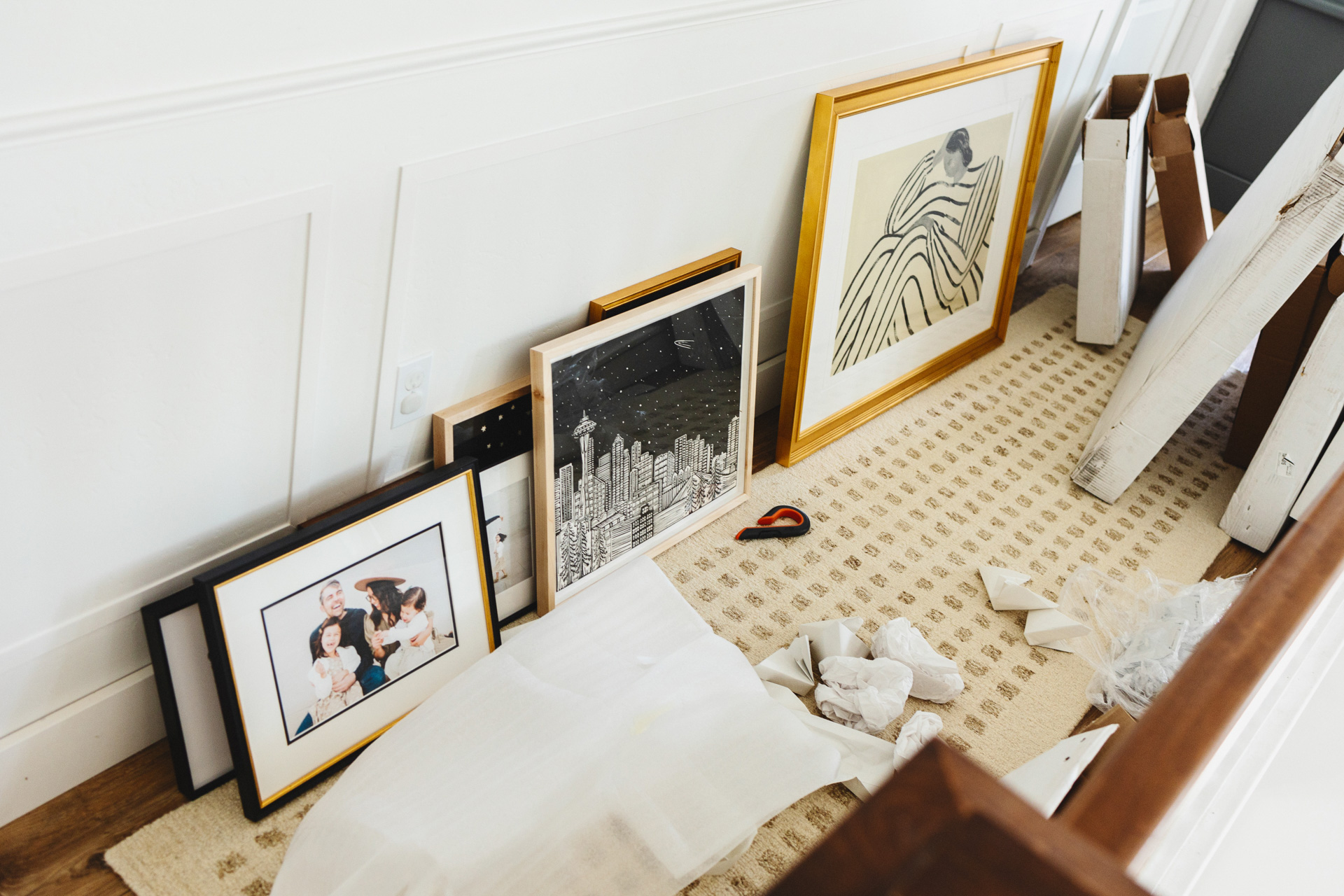 My daughter loves Harry Potter, so I found a watercolor of Hagrid's Hut and Grimmauld Place and they look like a landscape and building print — unless you knew.
The Seattle skyline is where Brandon and I got engaged. The shock art is from Kurt Vonnegut, one of Brandon's favorite authors. The gramophone for our love of music. The mushroom troop is a print I've saved for years. The hands with stars for a little magic, and the woman with stripes for some pattern.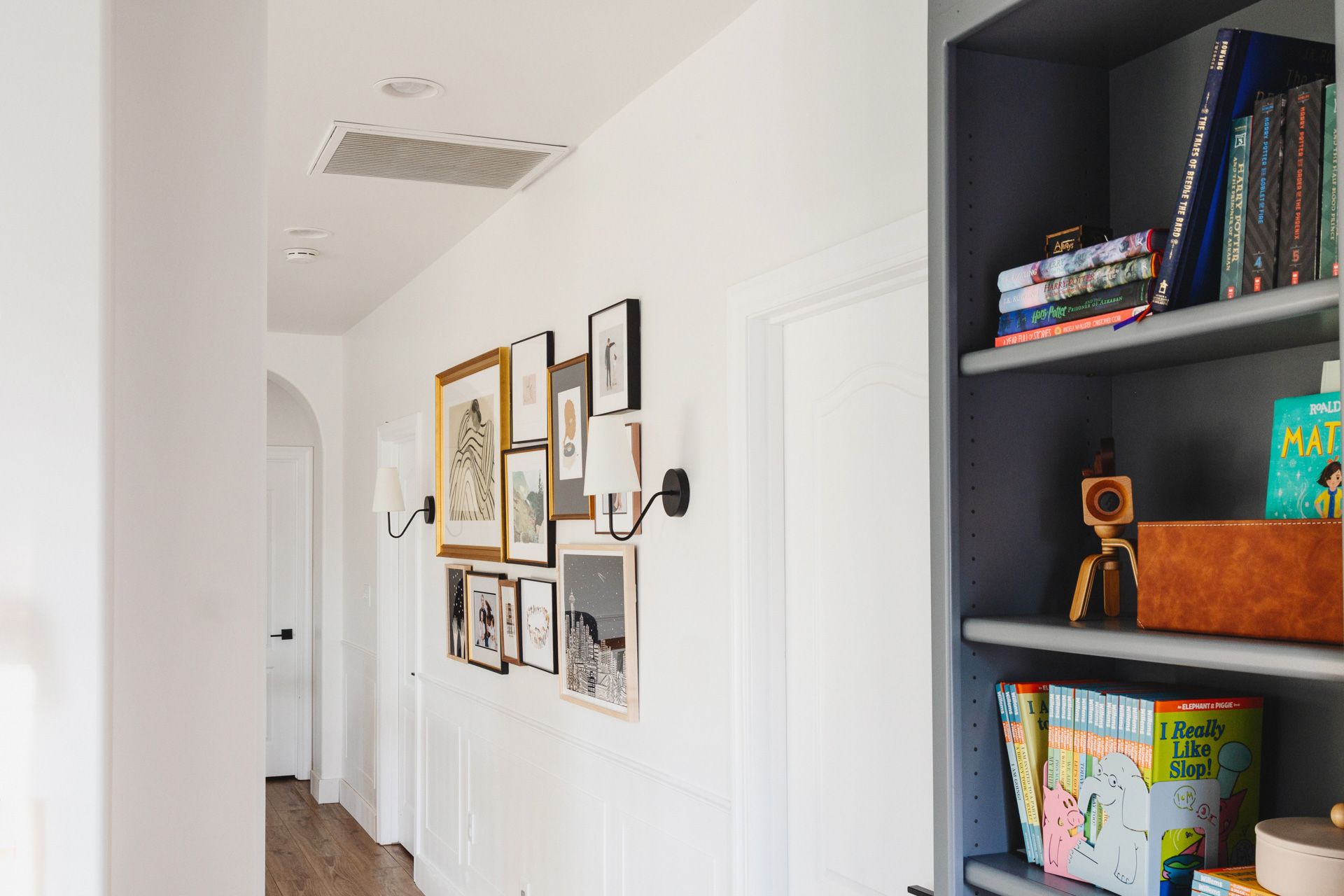 We mixed in family photos over the last two years from different sessions. They look cohesive because we took them in the same locations three times in a row. If you look close, you can see the girls at different ages. I love that.
Sources
Here's a closer look at some of the frame profiles.
Top left: Certificate Wide Gold
Top right, bottom left: Certificate Black Gold
Bottom right: Gallery Walnut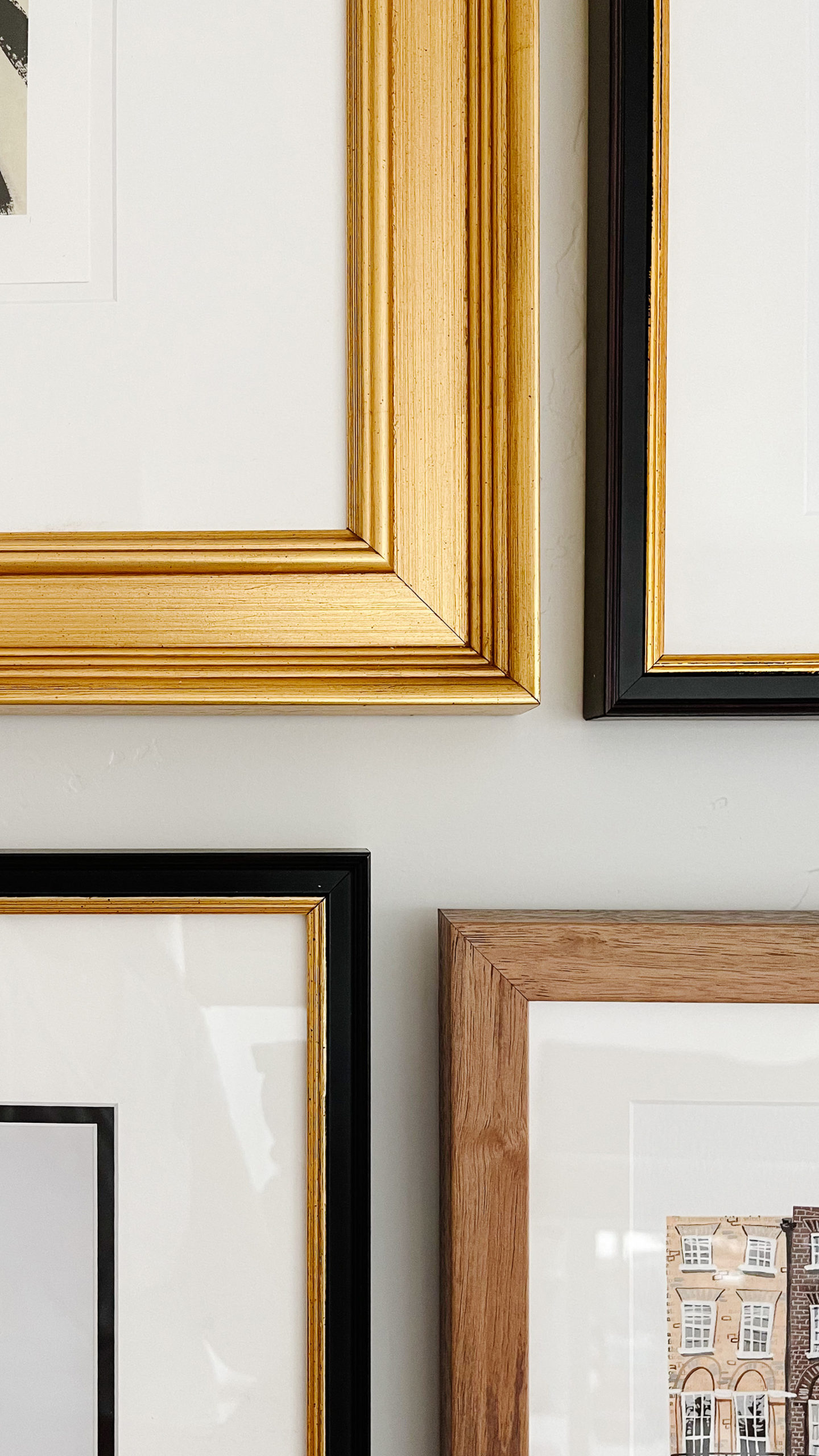 Art
Dancing Troop Print, Shock Art Print, Gramophone Print, Waiting Print, Hagrid's Hut Fine Art Print, Grimmauld Place Fine Art Print, Sending Magic Print, Seattle Skyline Print
Frame Profiles
Metal Old School Matte Black (Shock, Family Photo)
Metal Old School Rose Gold (Family Photo)
Certificate Black Gold (Hagrid's Hut, Family Photo)
Certificate Wide Gold (Waiting)
Certificate Gold (Gramophone)
Gallery Walnut (Grimmauld Place)
Gallery Natural (Sending Magic, Seattle Skyline)

I hope you found some inspiration on creating a gallery wall in your home. If you want to try Simply Framed, click here and use my code TIFFANYTCHENG for 10% off your first order!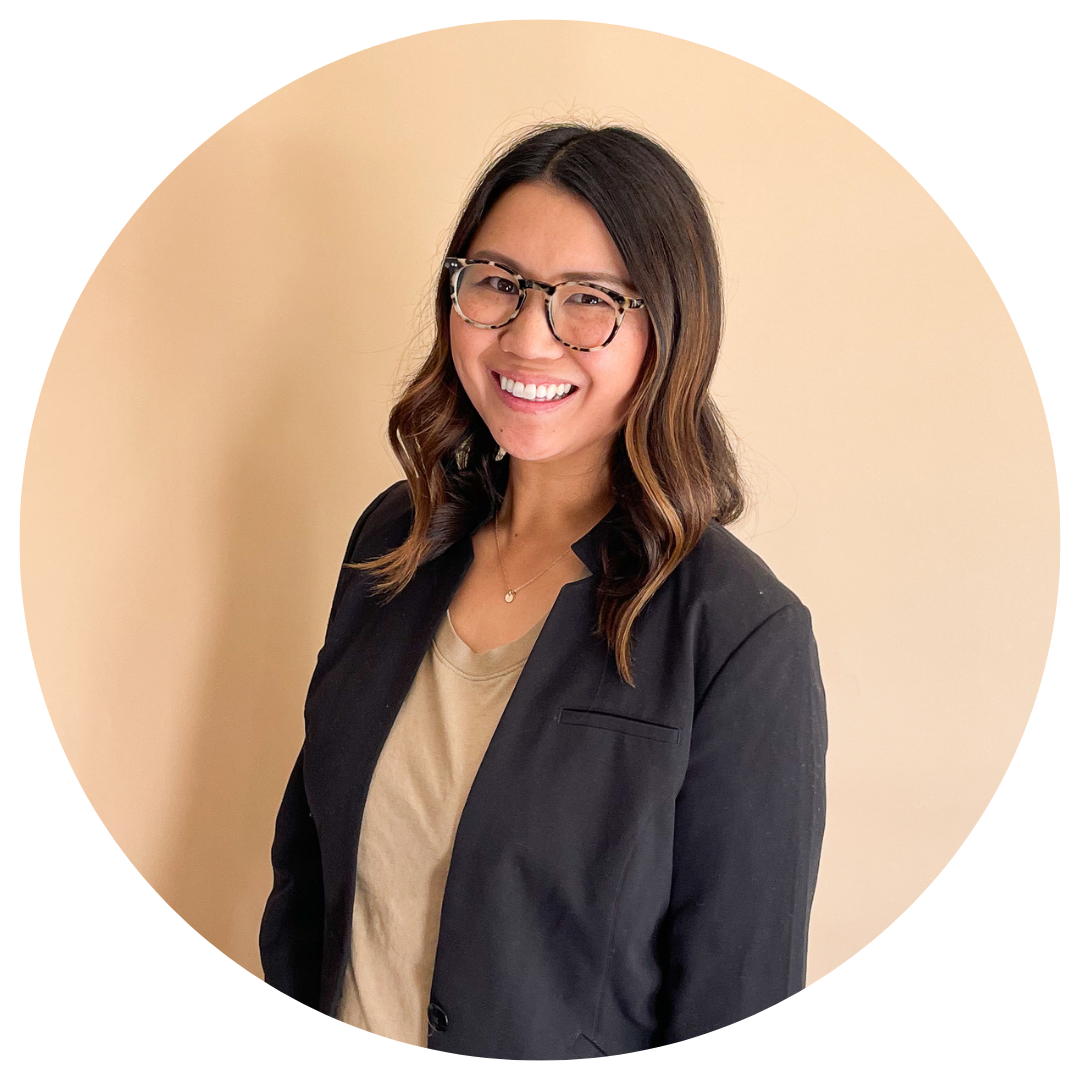 Hi, I'm Tiffany!
I'm so glad you're here. I hope you'll see this space as a source of inspiration and encouragement to take the first step in making your home a place you want to be, wherever that may be.
You can expect to find approachable DIY projects and tutorials, opinions on home design, and all the fun stuff that comes up in-between.
Our home is a place we want to share with friends and that includes you.