I am so happy that I decided to paint my kitchen cabinets early this spring because I've spent so much time cooking and baking while being home. Before quarantine we would eat out probably 3-4 times a week, so I had to figure out a new meal plan that satisfies a vegetarian, a kid, a baby, and me, who enjoys fresh, hot meals and leftovers only 1-2x.
Banana Spinach Muffins
I use a modified recipe from Yummy Toddler Food, substituting the honey, adding 1/3 cup of sugar to sweeten it if my bananas aren't so ripe, and mini chocolate chips on top. They are so good fresh and will keep for a couple of days if they last that long. There are also dairy and egg substitutions to try, if needed.
Crepes
I started doing a make-your-own crepes bar every Sunday as a fun family breakfast treat, but then we liked them so much we will usually do it during the week as well. They store nicely and can be reheated quickly for hungry babies.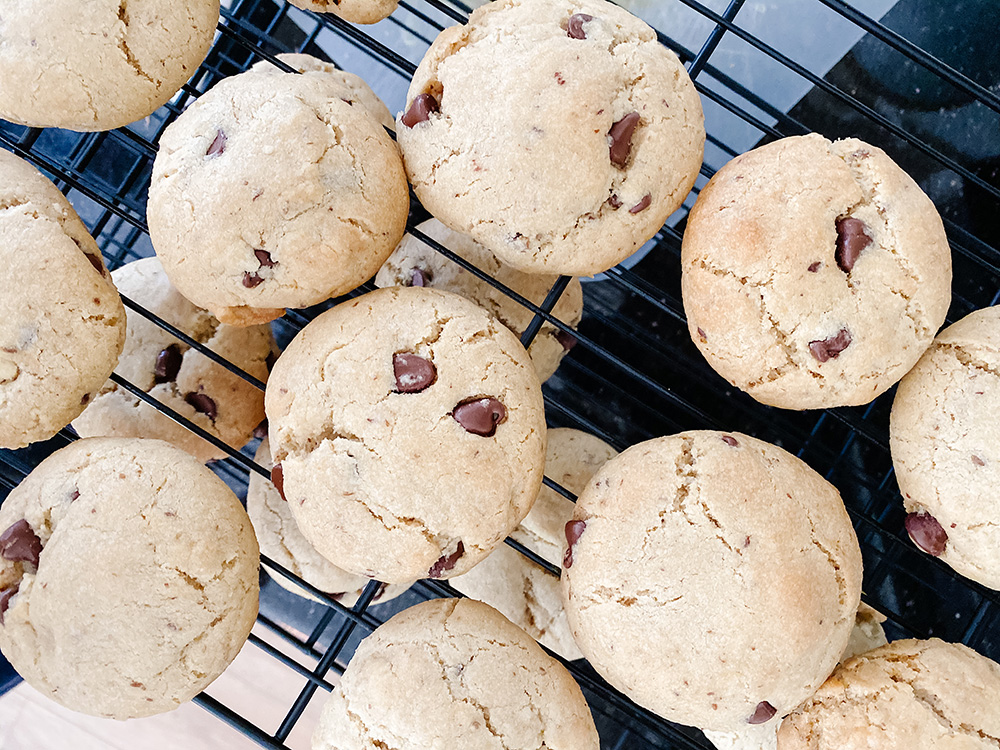 Chocolate Chip Cookies
I made these amazing chocolate chip cookies from Yellow Brick Home weekly for a couple of months and then I had to have emergency gallbladder surgery and I haven't made them since July. Womp womp. I'm not saying it was, but the four sticks of butter this recipe calls for might have been a catalyst. They are worth it.
Pot Pie Soup
This recipe is a great way to get in a ton of vegetables and have some meals covered for a day or two. Pair it with fresh toasted bread and it is a delight. Recipe from Just Ingredients.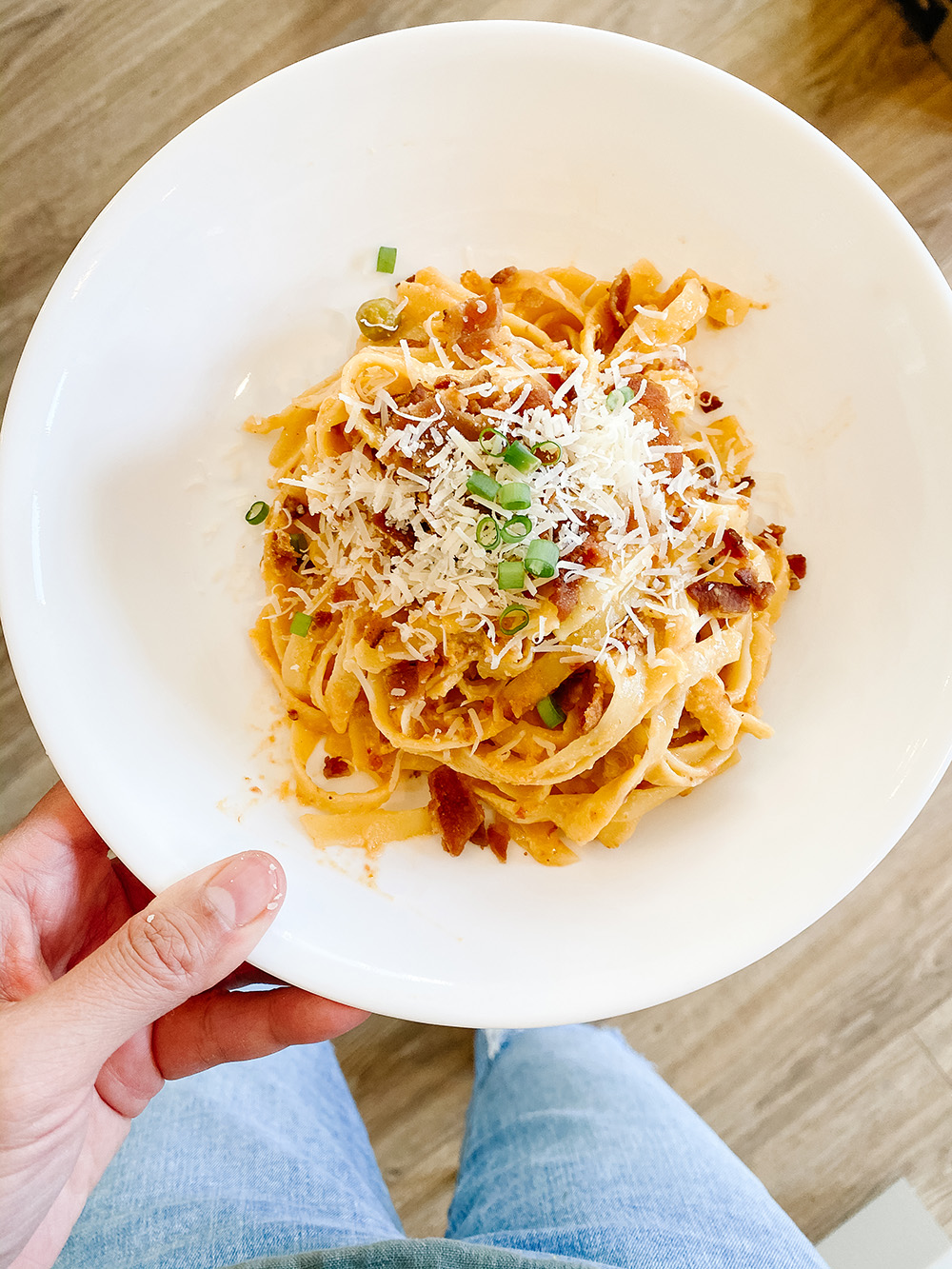 Chrissy Teigen's Spicy Miso Pasta
This pasta is SO good and easy to make. I find it best with fettuccine noodles and salty bacon (hold the bacon for Brandon), and we add frozen peas to make it a little like carbonara. Reheat in a skillet with a little bit of water to steam the noodles and some oil. Grab the recipe here.
Turkey Quinoa Crockpot Chili
This chili has been a favorite for years. I used to make it with ground turkey but now I use whatever vegetarian meat substitute I have on hand and it turns out really great. The texture is the same and you honestly can't tell the difference. The recipe is from Iowa Girl Eats and you throw everything into a crock pot, set it and forget it until dinner time!
Creamy Mushroom Ramen
I've only tried this creamy ramen recipe from Budget Bytes once, but it was a hit with B and myself. I didn't follow the recipe completely and subbed out the veggies I had on hand. It was still really good and filling.
I've hit a rut lately with coming up with meal ideas. I have to remind myself that not every meal has to be an extravagant spread. Some days it is quite alright to have breakfast for dinner. What have you been cooking lately?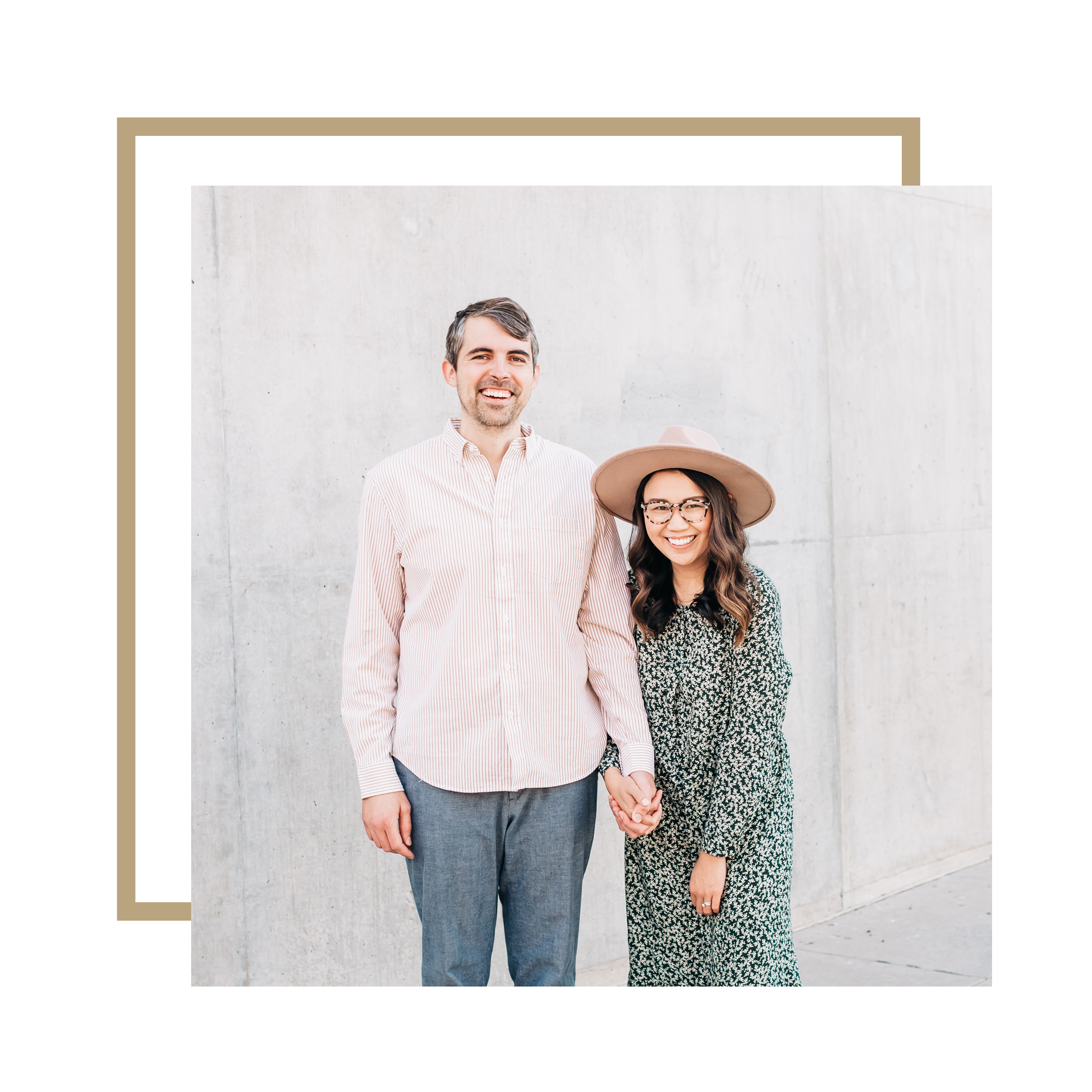 Abbott Abode is a lifestyle blog documenting our journey to making our home a place we want to be, from renovations and makeovers to parenting and family. We're figuring it out as we go most of the time, but hope you'll find encouragement, inspiration, and kindness during your time here.