Today I'm sharing our front entry door makeover in partnership with Grandeur Hardware. I'm so happy with the outcome and my only regret is that I didn't do this sooner.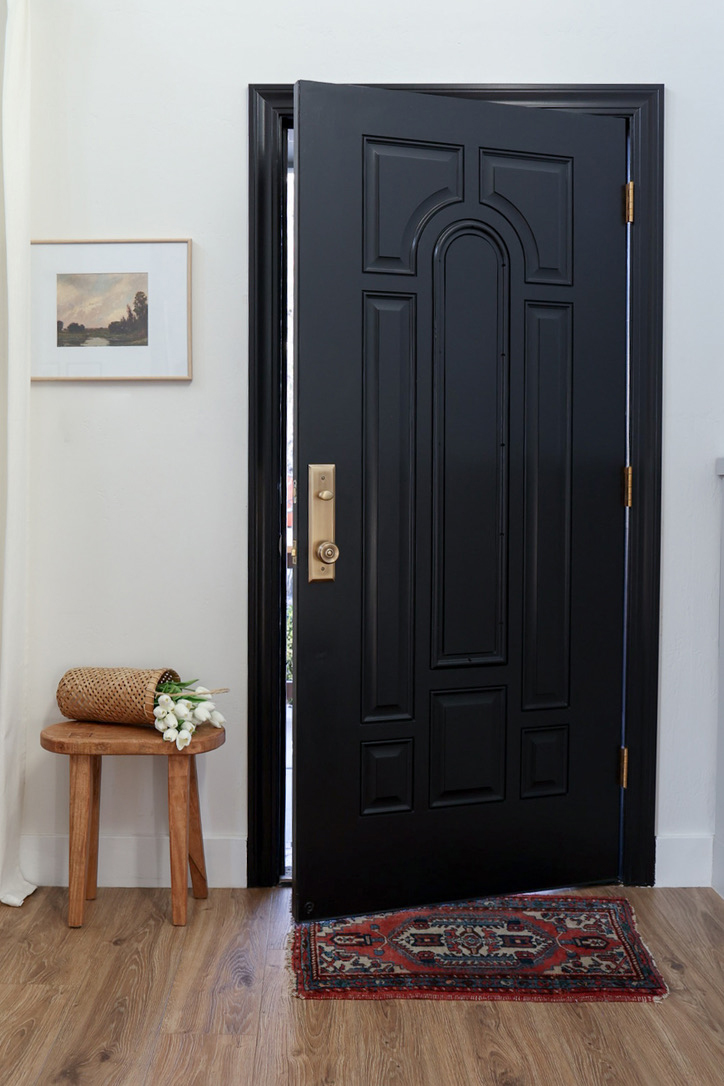 I've never loved our exterior front door because of the decorative glass insert in the center. I've always dreamed of swapping the door out for something more modern and us.
With a little bit of paint, some scrap material, command strips, and new hardware, this door is feeling so fresh and new! Let's talk through the plan together and show you how you can update any door in your home with these steps.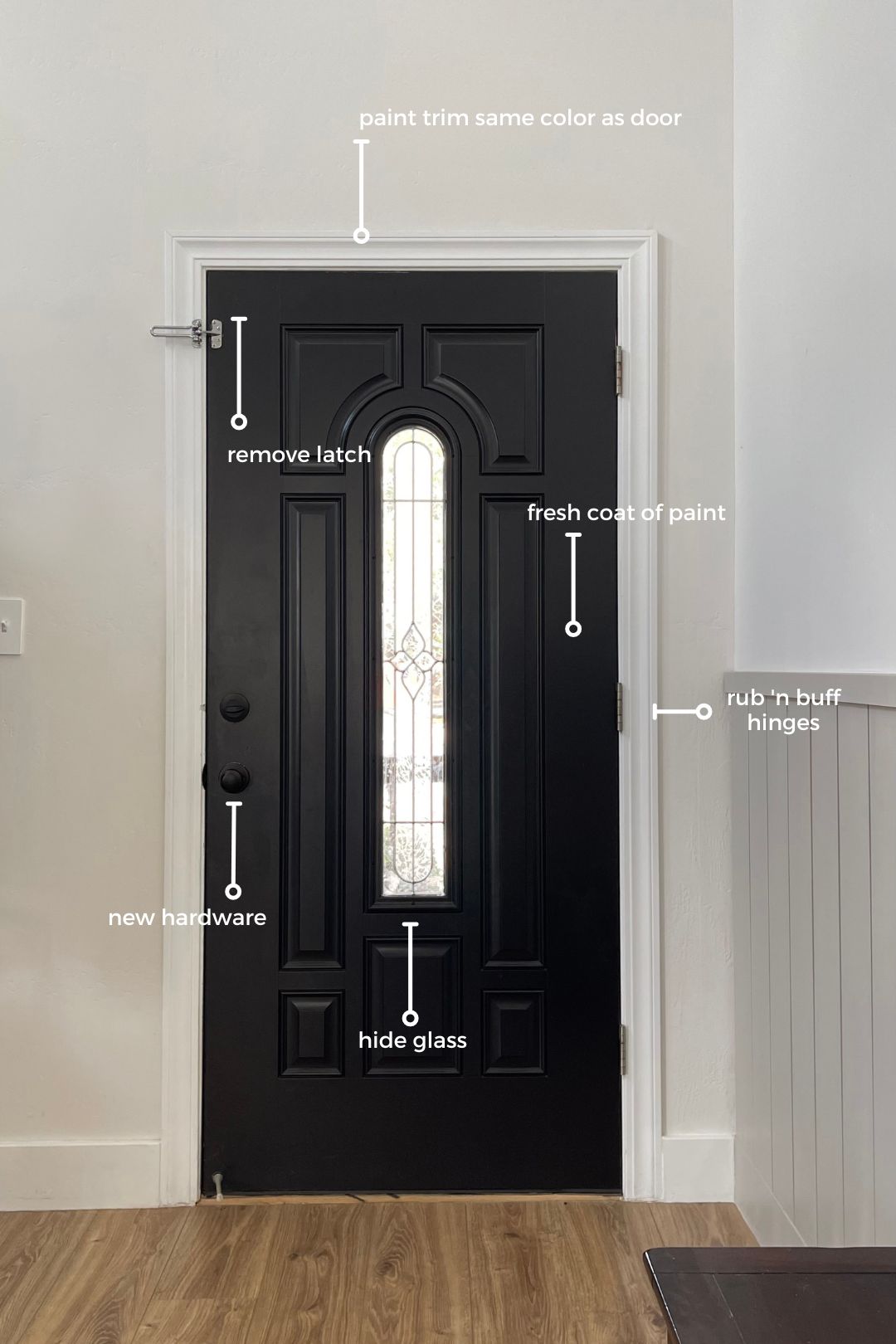 The first thing I wanted to do was "hide" the glass insert. I originally tried adding a reeded glass privacy film thinking that would hide it. Not only did it not hide the decorative insert, it made it look worse! So I came up with another plan: adding a thin piece of hardboard to the center. This worked and it looks just like a solid wood door. The best part is that I attached it using command strips, so it's easily removable if need-be.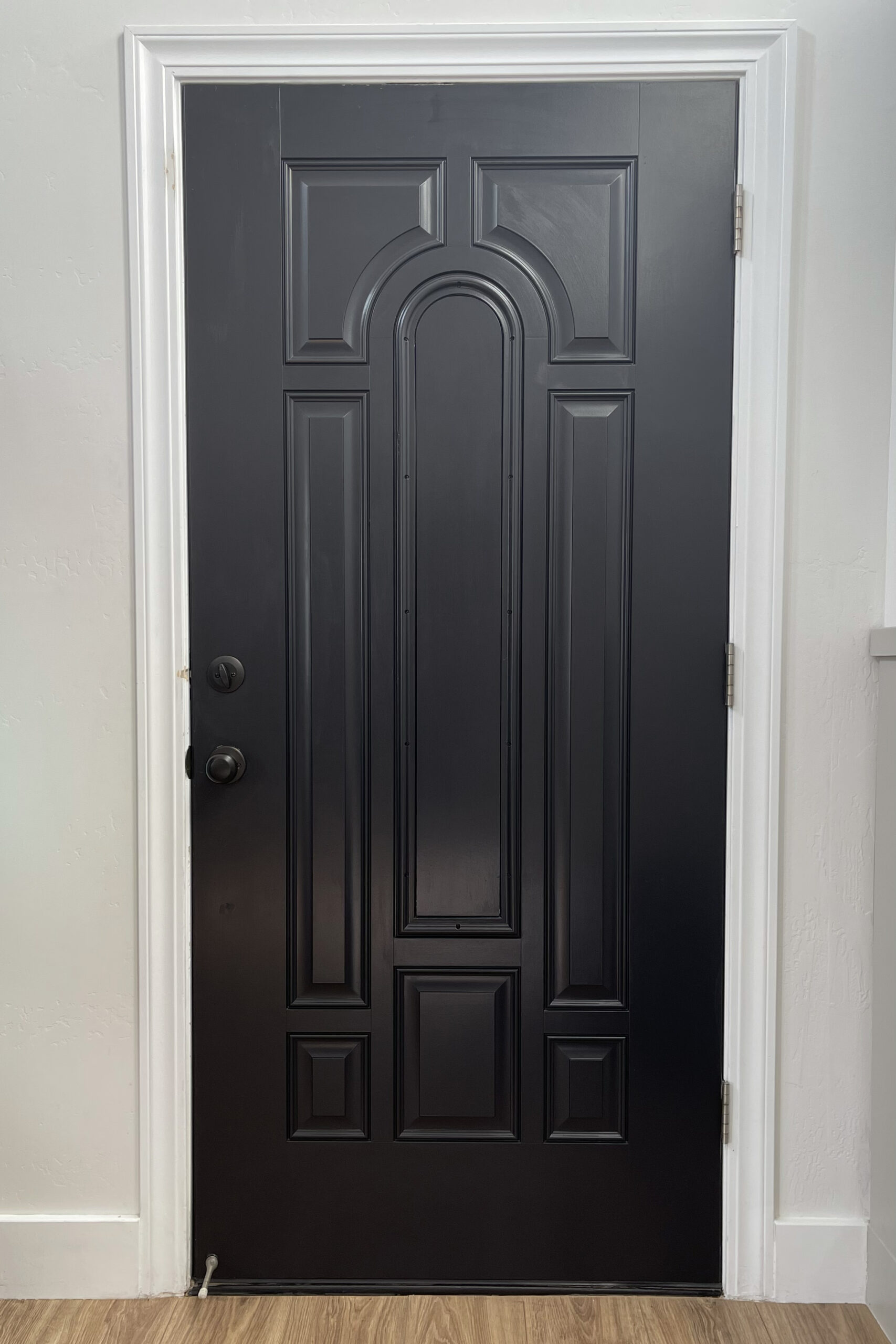 Next, I installed a beautiful entry door hardware set from Grandeur Hardware in a vintage brass finish. It's such a beautiful color that really pops against the black door. I love that both the deadbolt and handle are a single piece. The backplate matches the other door hardware in our home and makes it feel so elegant. I chose this bouton knob because the button detail is so cute. You can customize your entry door set in different knobs, grips, and finishes!
It took me a few hours to install the set because I didn't measure before ordering. I assumed it was a standard size like our interior doors (which I have installed previously). It was not. Don't be like me! Measure twice.
After installing, I painted the door trim around the door the same color, Black Magic by Sherwin Williams. I used a satin finish. Painting the trim widens the door visually and makes it feel so grand.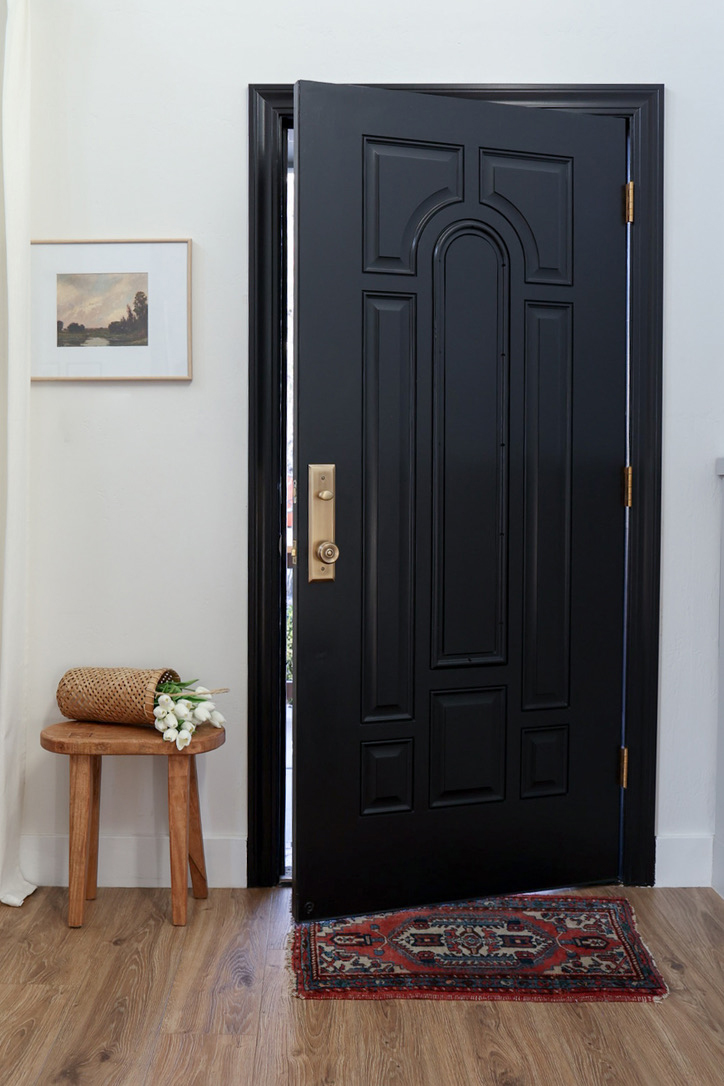 One last detail not to be overlooked is the color of your door hinges. I originally thought about painting them black to disappear, but I rub 'n buffed them instead to tie-in to the vintage brass finish of the door hardware and add a little warmth in a sea of black. I think it's perfect.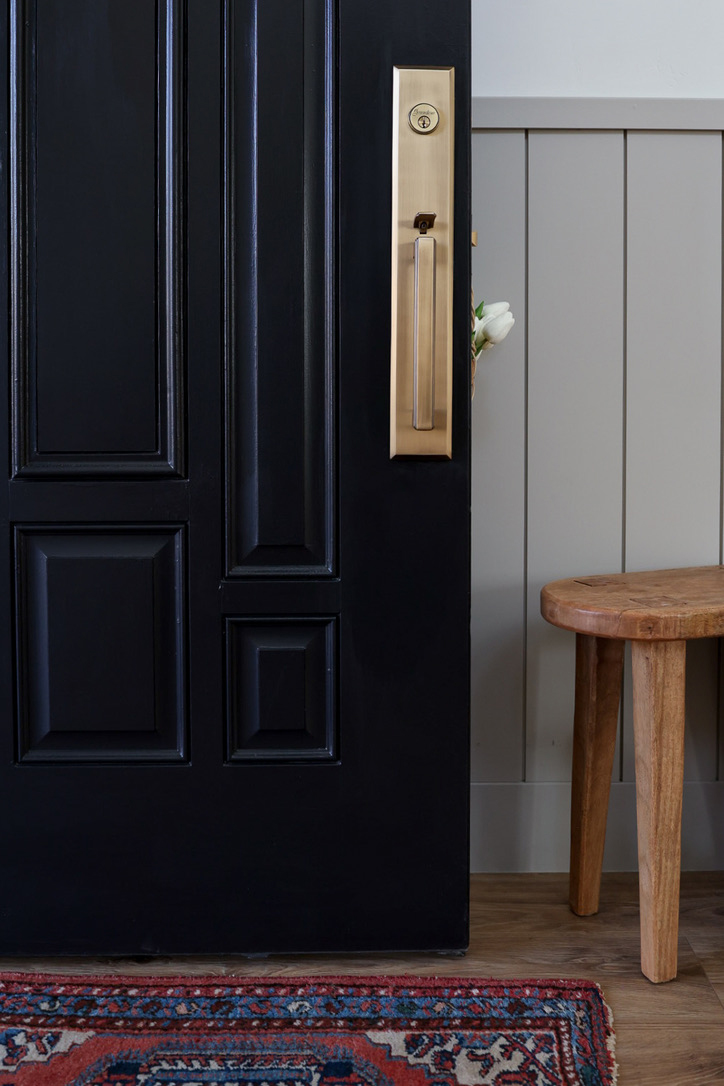 I shopped my home and minimally styled the front entry with a vintage rug to bring some color to the area and added a simple landscape piece in a neutral wood frame to the side. We'll be adding hooks on hooks on hooks in no time.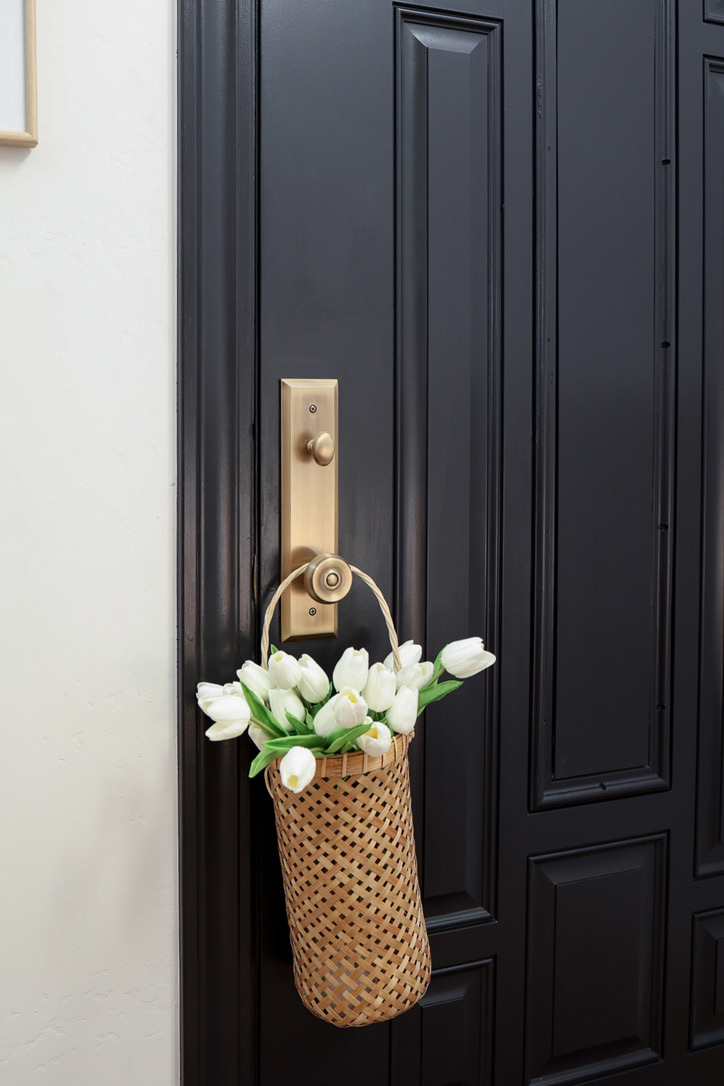 Every time we swap out a door knob in our home, I'm reminded that splurging on hardware (and lighting) is always worth it. These details make your rooms shine.
Thank you to Grandeur Hardware for partnering with me on this project! Shop my exact door set and room links below.
Shop the Post:

*Disclosure: This post may contain affiliate links. If you purchase a product, I may earn a small commission at no additional cost to you. Thank you for supporting my blog.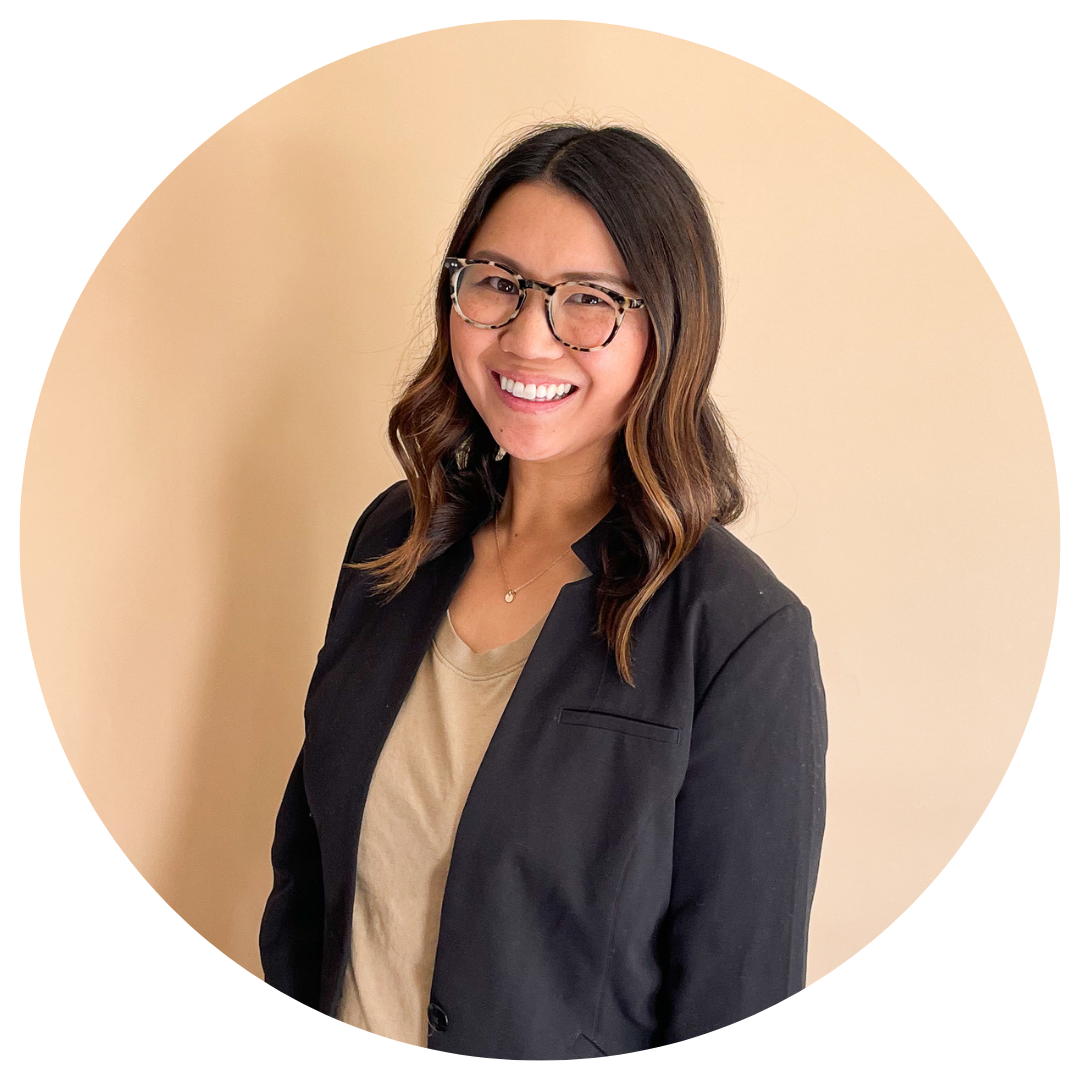 Hi, I'm Tiffany!
I'm so glad you're here. I hope you'll see this space as a source of inspiration and encouragement to take the first step in making your home a place you want to be, wherever that may be.
You can expect to find approachable DIY projects and tutorials, opinions on home design, and all the fun stuff that comes up in-between.
Our home is a place we want to share with friends and that includes you.